visual layout builder
Add new elements exactly where you need them! The elements' insertion is context-sensitive and that allows you to automatically focus your attention on suitable suggested components based on the current selection.
Design Blocks
An awesome collection of responsive blocks to perfectly build responsive Bootstrap 4 websites is available for you! More than 170 blocks in different categories.
Visual Bootstrap 4 & 5 Designer
Add and customize Bootstrap 4 and 5 components on your page. Easily change their dedicated properties, such as colors, sizes, spacing and responsive options - visually in the App Structure panel.
Visual Framework 7 Designer
Design your amazing Mobile Apps in Wappler - with native iOS and Android look and feel. Use the ready to go mobile UI Components and adjust their look and feel in the App Structure panel.
Grid Controls
The Design View allows you to easily resize and reorder your Bootstrap 4 Columns using the size and offset handles.
Design Panel
Define your own classes with styles and reuse them. The Design Panel offers you a variety of easy to use options to style your content - text, color, borders, background, spacing and more.
Gradients Generator
Visually create linear or radial gradients, both with multiple color stops! The generated CSS gradient code is cross browser compatible.
Assets Manager
Manage and preview all of your project images using the Assets Manager panel. Pick your media easily, directly in Design View using the Assets Picker dialog.
Animations
Apply different animations to any element on your page. Add onscroll animations and select the animation type, duration and delay.
High Performance Front-End Framework Included
App Connect is a high performance front-end framework powerful just as React, Angular and VueJS but much easier to use thanks to its custom component structure and visual integration – so no coding is required!
Extensive Data Binding Done Visually
Add any data directly in your content, populate mighty fast repeat regions, dynamic CSS styling, generate content or toggle areas fully dynamic and data dependent.
Rich Set of Components
App Connect includes a huge library of component and services available to power every aspect of your dynamic web site or responsive web application. Data Formatting, Session and Cookie Management, Form Validation, Repeat Regions are just a few of the available options.
SEO Friendly URLs
Thanks to Wappler's routing component you can improve the usability and SEO of your site with cleaner, easier to remember and SEO friendly URLs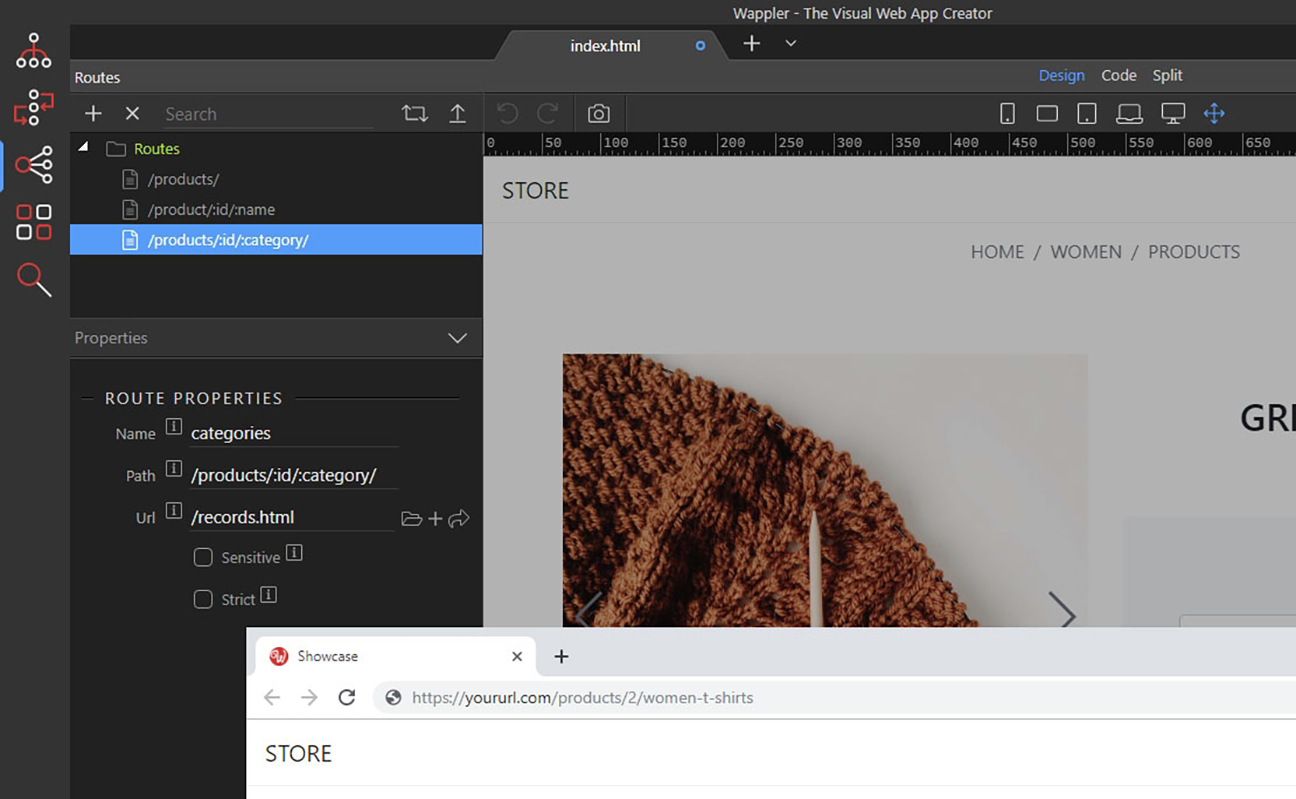 Powerful Back-end Framework Included
Server Connect offers full visual programming without any coding. It includes many server-side workflow components. Connect to your databases, create advanced database queries, send emails, manage files and folders, process images or create login systems fully visual!
Support for any Hosting and Server Model
Server Connect components support PHP, ASP.NET and Classic ASP so you just connect your hosting and you are ready to work.
Support for all Major Databases
Connect to any major database like Microsoft SQL Server, MySQL, PostgreSQL with just a couple of clicks.
Visual Database Query Designer
The included visual query designer allows you to design your queries and generate SQL queries fully visual. Just select the table, add columns, adjust filtering and sorting options and you are done!
API Connectivity
Connect securely to any API Data Source, define API schema visually and use it on your pages. Also you can connect to any OAuth2 compatible service. OAuth2 Connector is available in Server Connect and it includes 18 predefined services.
Full Version Control with Git
Get in the world of Version Control with the native Git integration in Wappler. With the support of branches and remote repositories, you can easily keep track of different versions of your website or app and publish it to remote sites like GitHub, GitLab, BitBucket or Microsoft Azure DevOps.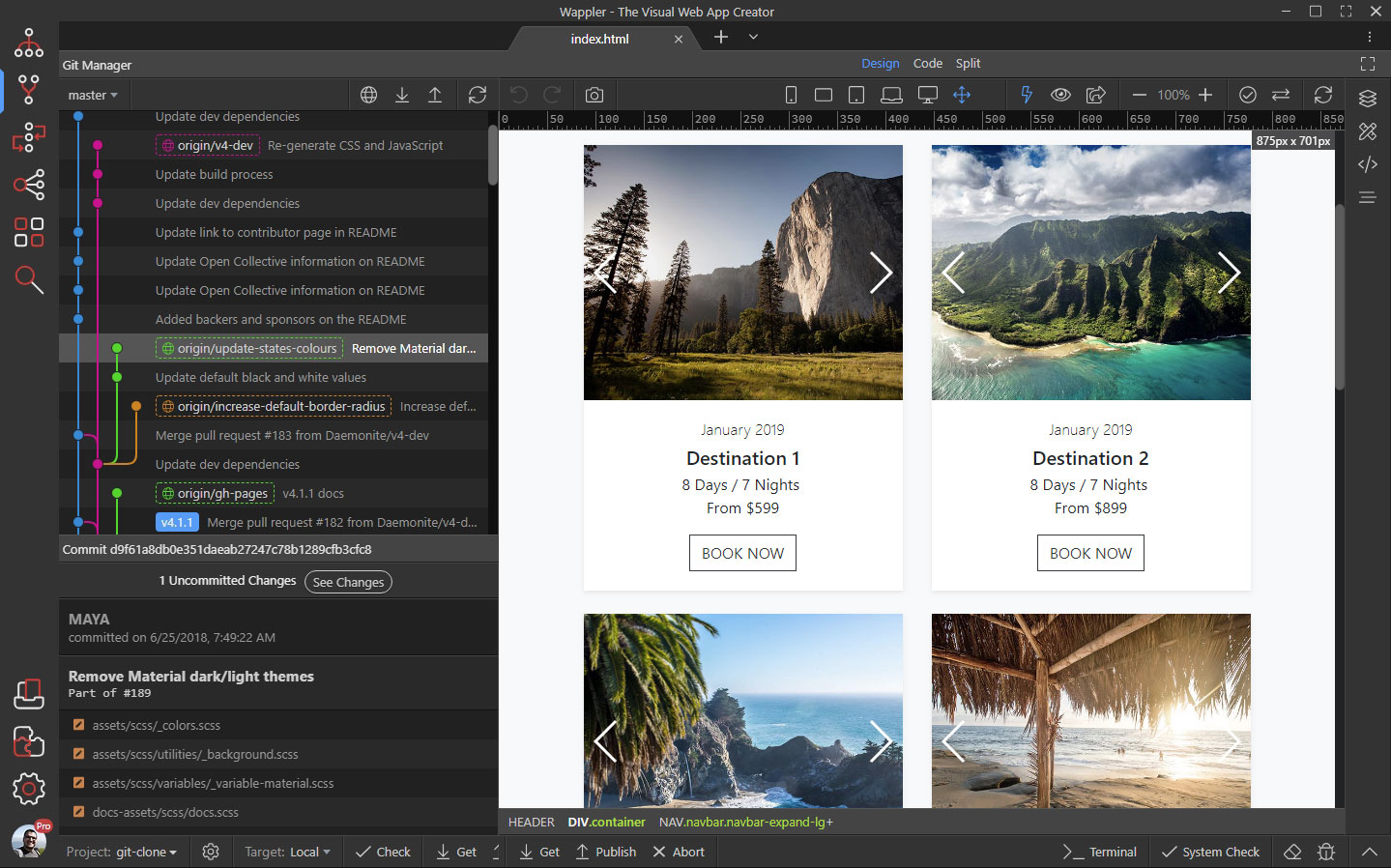 Build Mobile Apps
Cordova Builder allows you to define, generate and build mobile applications. With this awesome tool it's possible to deploy your app build in regular HTML5 and CSS as a mobile app to all of the major mobile platforms.
Build MVPs Quickly
You can build MVP easily using Wappler's visual design tools and launch your product quickly or present it to your users or investors. You can also develop it to a fully functional product.
Go online quickly
Wappler gives you complete freedom of publishing. You can publish your work to any hosting or cloud platform of your choise in just a couple of clicks.
Project Management
Manage your projects with ease, using Wappler's project management tools. Open and edit existing projects or create new ones, using the included starter templates - it is up to you.
Publish Your APPS
Wappler allows you to publish your amazing mobile apps directly to the Apple App Store and Google Play Store with a single click. So simple and yet, so powerful!